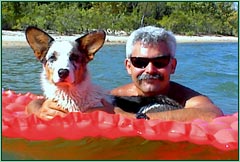 At nearly 10 years old, Glacier still is the ultimate showman and moves like a dream! A breeders dream come true!

Glacier is the sire of several lovely champions, with several more close to finishing.
Who said you can't teach an old dog new tricks. At 8 1/2 years young, Glacier earned his RN title, completing the three legs in three attempts. Glacier had only been training in obedience for six months, so we are really proud of our boy.