Rocky's herding accomplishments have been amazing! He has been High In Trial 2 years in a row at the Cardigan Nationals. He has garnered several all breed High in Trials from the sheep, duck, and cattle classes, and he is now winning in the difficult B courses! His herding abilities have been made possible by the gifted herding training and exhibitor Dawna Sims of Dewey, AZ.
Thank you, Dawna!!
Rocky will continue his herding career with Kim and Leo and will help us with our sheep and goats here at the farm. His most important job is as our constant companion!
Below, Rocky and his loot from the 2013 Cardigan Welsh Corgi National Specialty Herding Trails in Arizona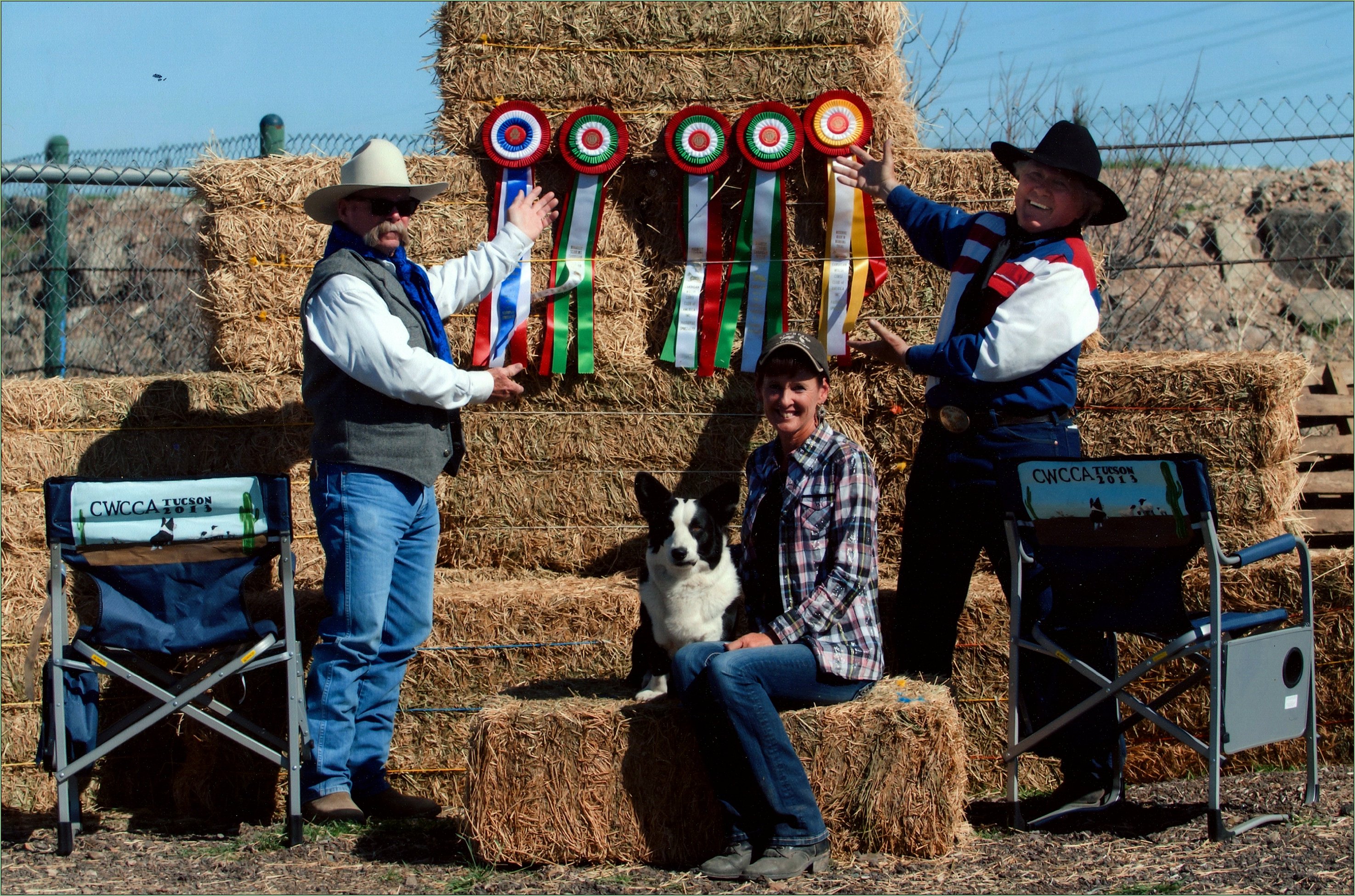 The 2014 National Specialty in Missouri saw Rocky walk away with another High In Trial and earning his AKC Herding Championship!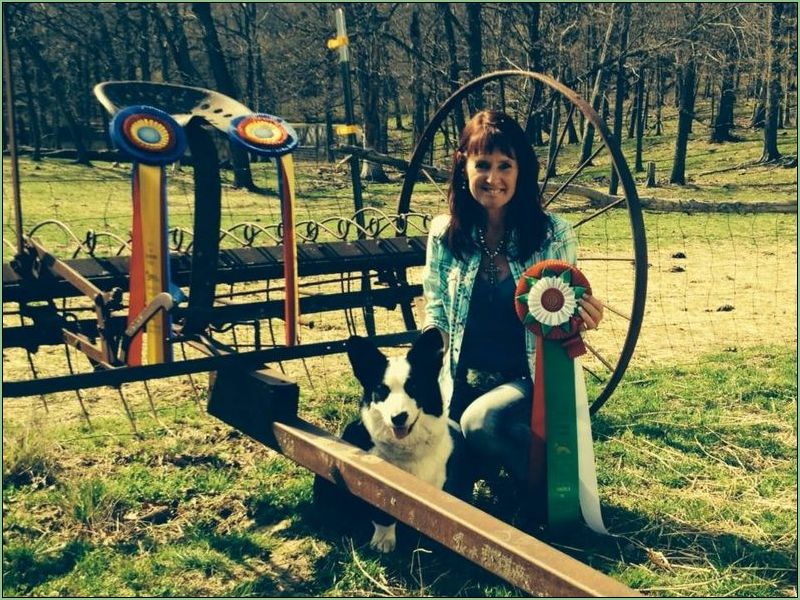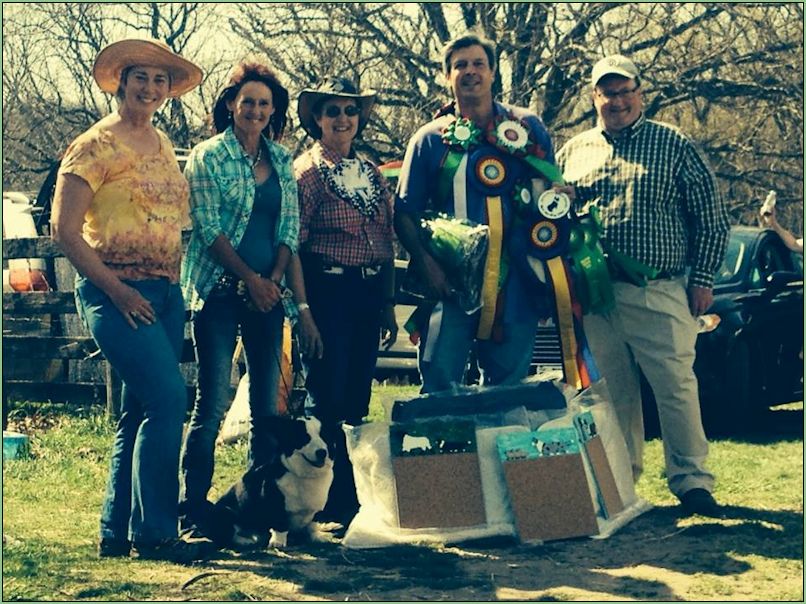 Below, Rocky is showing earning his PT with mom, Kim.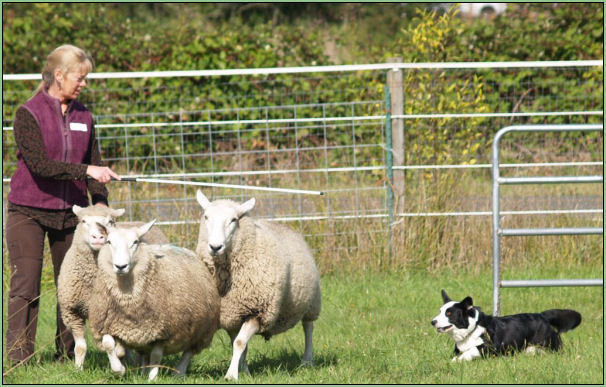 We are very impressed with the quality of Rocky's children to date. He produces sound, elegant, and super intelligent/biddable puppies. To my eye, his puppies look like a blend of Rocky's beautiful parents, Maya and Luther. We look forward to more Rocky kids in our future! See Rocky's kids page for photos of some of his youngsters.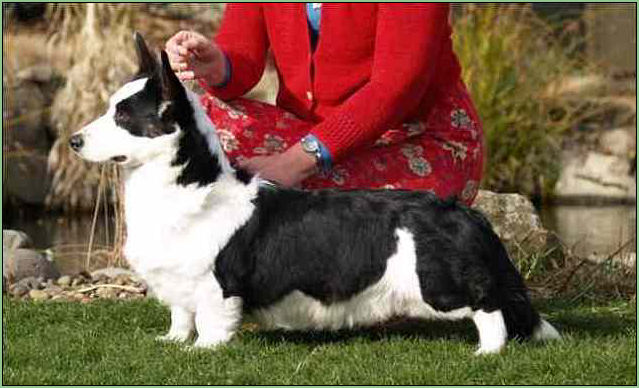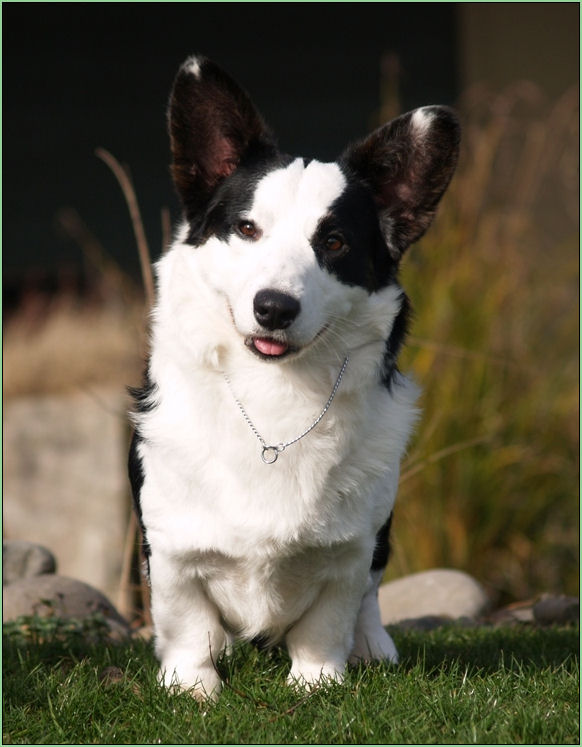 Above is Luther (CH Visions I Have A Dream) while he visited us in Oregon, and below is Rocky's proud mama (CH Wolfrun Coedwig's Angelou), Maya.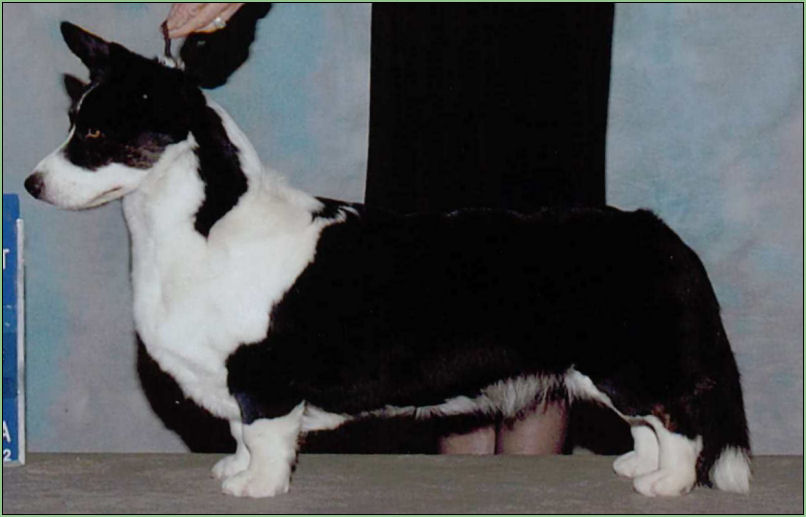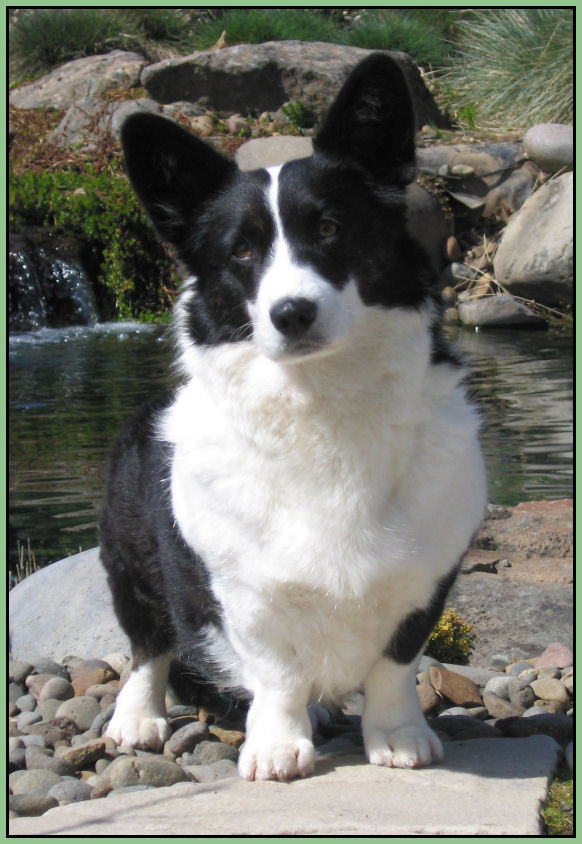 On the occasion of Rocky's 12th birthday in April 2020, we snapped this picture.
Here's to many more, our special boy!!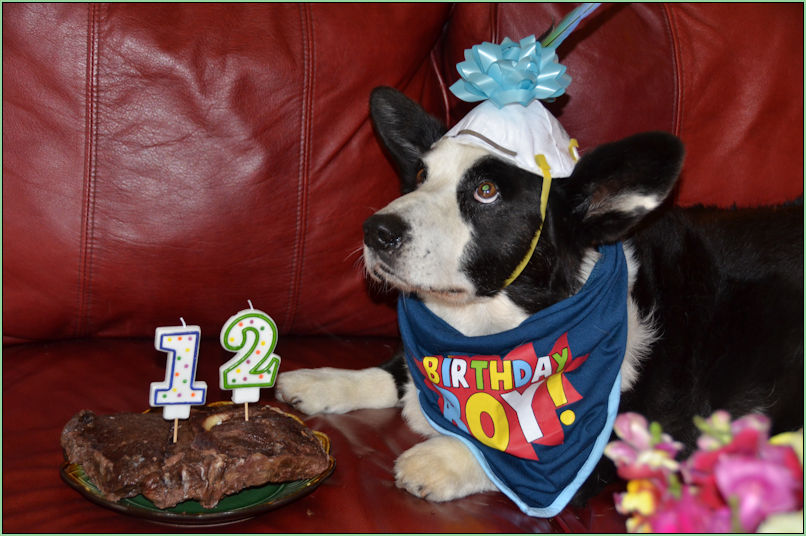 Pedigree for
ASCA Working Trial Champion, AHBA Herding Trial Champion, AKC Dual Champion Coedwig's Malachite, RN, HXAds, STDc HTADIIIds, OTDc, ATDds, HTDI-D,S, OFTDs, VC, ROMG
Penn-Hip (good), OFA Good, PRA Clear, Fluff free and CERF normal, EE clear
Sire
Ch. Visions I Have A Dream, PT, RN, CA, CGC OFA Fair
Sire
Ch. Conerstone Coedwig's Dreamer, ROMS, OFA Good
Sire
Ch. Yardican Roland, OFA Good
Sire
Multiple European/International Ch. Smultronbackens Donovan
Dam
Finnish Ch. Faydom Sparkling Moonstone
Dam
Ch. Cornerstone New Light, OFA Good
Sire
Ch. Tafrnwr Coedwig Blackstorm ROMG, PennHip (DI .45)
Dam
Ch. Maranatha's Cornerstone Rosey, ROM, OFA Fair
Dam
Ch. Cornerstone Visions Denim N Lace ROMS, OFA Good
Sire
Ch. Conerstone Coedwig's Dreamer, ROMS, OFA Good
Sire
Ch. Yardican Roland, OFA Good
Dam
Ch. Conerstone New Light, OFA Good
Dam
Ch. Cornerstone's Double Diamond, ROMS OFA Fair
Sire
Ch. Vestavia's Harlem Snowman CD, OFA Fair
Dam
Cornerstone Fairsteed Belle, OFA Excellent
Dam
Ch. Wolfrun Coedwig Angelou, Specialty Winner, Multiple Group Winner, OFA Good
Sire
Ch. Coedwig's Carbon Blue, BISS, BIS Winner, ROMG, Penn-Hip (DI-.50)
Sire
Ch. Spectrum Harlem Shuffle, Specialty BOW, ROM
Sire
Ch. Phi Vestavia Nautilus,BOB National Specialty, Multi Group Winner ROMG
Dam
Ch. Davenitch Black Fox Barketa, ROM
Dam
Ch. Coedwig's Lilac, Specialty Best in Sweeps, ROMS, OFA Fair
Sire
Winsdown Albert
Dam
Ch. Davenitch Coedwig Blue Violet
Dam
Ch. Aurigan Wolfrun Brandywine, OFA Good
Sire
Ch. C-Myste There And Back Again
Sire
Phi-Vestavia Kallel
Dam
Ch. C-Myste Thistle and Shamrock
Dam
Ch. Shadowalk PV Ellusion, OFA Excellent
Sire
Ch. Coedwig Vestavia Luminesence, ROMG
Dam
Ch. Shadowalk PV Under a Silver Lining, ROM